19.07.2008
Results in F4G class.

The Open International Contest For Large Scale Model Aircraft 2008 will be held in Wloclawek Poland from the 11th till the 20th July 2008. The host of this event will be Aero Club of Wloclawek at Kruszyn Airfield.
Organizers
01.07.2008
You can watch Official Short Schedule for FAI F4 WCHs Wloclawek 2008.
22.06.2008
You can download "Final individual information form"
28.05.2008
You can download "Final entry form"
17.05.2008
Last modernizations of flying facility.
We have been finished the modenizatons of the flying models facility for F4C class lately.
Now the asphalt surface area is smilar the triangle /sizes 120mx95mx85m/.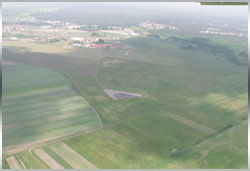 06.05.2008
Plenary CIAM Meeting Murch 2008 in Laussane accepted the F4G class /large scale aicraft/ as the new provisional one.
The Rules for this class are the same as for F4C class with one exception, your scale model weight can not exceed 25kg with fuel.
/please see FAI Sporting Code. Aeromodelling ABR 2008 edition and FAI Sporting Code Aeromodelling F4 Flying Scale Model Aircraft 2008 edition/.
Organizers
15.04.2008
IMPORTANT INFORMATION: We will add to the Bulletin no.2 information about the costs of sight-seeing trip to Torun and Ciechocinek which is planned on the 19th July 2008.
Sight-seeing trip costs 38 euro.
Organizers
13.01.2008
You can download Preliminary entry form
28.12.2007
You can download bulletin no. 1 revision 1 from